02Jun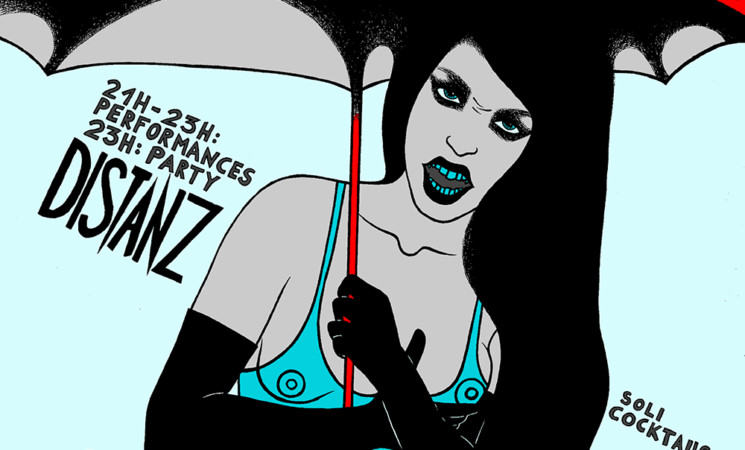 Party am Internationalen Hurentag | Berlin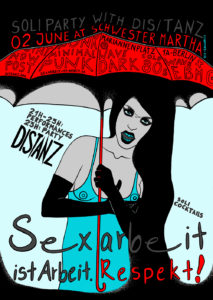 Sex work is feminism's ultimate challenge.
Lasst uns die moralische Bevormundung stoppen!
21h – 23h: Performances
from 23h: Party
+ Soli-Cocktails
Am 02. Juni ist der Internationale Hurentag! Wir laden euch ein mit uns zu feiern. Lasst uns zusammen das Hurenstigma und somit die sinnlose Unterteilung von Frauen* in Heilige und Huren durchbrechen.
Das Soligeld der Party wird unteranderem die offenen Kosten der Ende April 2018 stattgefundenen MitMachKonferenz zum Thema Sexarbeit decken.
*** english ***
2nd of June is the international whores day! Let's party together and put an end to the whore's stigma and the nonsense dividing of women* into saints or sinners.
The soli money will cover the costs for the "MitMach" conference organized by the campaign "Sexarbeit ist Arbeit. Respekt!" which took place at the end of April 2018.
Stigma und Diskriminierung prägen noch immer den Alltag von Sexarbeiter*innen. 15 Jahre nachdem Sexarbeit als Tätigkeit anerkannt wurde, trat letztes Jahr das neue Prostituiertenschutzgesetz (ProstSchG) in Kraft. Unter dem Vorwand des Schutzes werden mit Kontrolle und Kriminalisierung Sexarbeiter*innen Steine in den Weg gelegt.
Wir, ein Bündnis von Sexarbeiter*innen, feministischen Aktivist*innen und Sozialarbeiter*innen, setzen uns für die Rechte von Sexarbeiter*innen ein.
Hierzu zählen für uns:
Arbeitsrechte
Selbstbestimmung
Beendigung der Stigmatisierung
Beteiligung von Sexarbeiter*innen bei Themen und Entscheidungen, die diese Berufsgruppe betreffen
*** english ***
Stigma and discrimination still shape sex workers' daily life. 15 years after sex work has been recognized as an occupation, in 2017 the new Prostitutes Protection Law (ProstSchG) came into effect. Under the pretext of protection, the new law controls and criminalizes sex workers.
We, an alliance of sex workers, feminist activists, and social workers mobilize for sex workers' rights.
For us, this includes:
Labor rights
Self-determination
Ending the stigma
Participation of sex workers in discussions and decisions affecting this professional category
Details

Start

02 Jun, 2018 21:00

End

02 Jun, 2018 06:00

Event Category
Organizer
Venue

Address

Mariannenplatz 1a Berlin

Website
All Events
---